Overview
Teachers and parents of young children know how profound and intelligent preschoolers can be.  Even at a tender age, children wonder about the world around them, and often ask deep questions that adults may struggle to answer!
The Invisible Book presents a fascinating reality for children and the grown ups to ponder together:  it explores the fact that although something may not be seen, it can be very real.
The bright, contemporary illustrations portray a young boy and his mother spending the day together in the city.  Along the way, he encounters many unseen entities.  Air, electricity, magnetism, thoughts, and feelings all fall into this category.
The climax of The Invisible Book reveals the most important invisible realities of all:  our neshama, and, of course, Hashem Himself!

The Invisible Book
Written by Bracha Goetz illustrated by Patti Argoff
ISBN: 978-1-929628-37-7 / LCCN: 2007930697
Hardcover/ Laminated pages / 32 pages / Ages 2-5 / List Price $11.95
Publication Date:  November 2007
Author Information
About the Author:
Bracha Goetz graduated from Harvard University, attended the Medical College of Virginia, and went on to study at Ohr Someyach Women's Division in Jerusalem. She is the author of several children's books, an editor of books for women, a frequently published poet, and the Mentoring Coordinator of the Jewish Big Brother and Big Sister League in Baltimore.
To arrange for Bracha Goetz to do delightful presentations of her children's books and poetry, please contact her at bgoetzster@gmail.com.
Illustrator Information
About the Artist: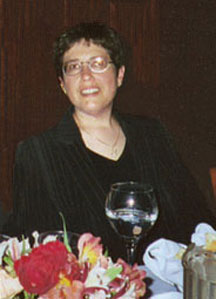 Patti Argoff received a BFA from The School of Visual Arts in 1981, but actually was drawing long before that- she was drawing before she could talk. At least that's what her mother claims. Patti works in traditional watercolor on paper. Her paintings of animals, subjects in historical costume, kids and family situations have a lively animated quality, while paying close attention to detail and often with a wink of humor.
When she's not drawing and painting, Patti enjoys working in stained glass and is involved in fostering and re-homing stray or abandoned Chihuahuas. She also teaches a class in painting in watercolors for adults through a local high school's continuing education program.
Patti has illustrated numerous books, including, Miller the Green Caterpillar (2004 River Road Press), Happy Birthday To Me (2006 Hachai Publishing) and Mitzvah Guess Who? (2020 Hachai Publishing).